Sports brands agent with French
1200 - 2200 BGN
(net)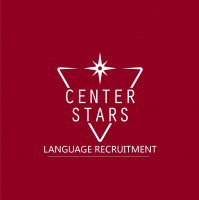 Center Stars
Responsibilities
We are Center Stars and we always have great opportunities for people with all European languages and even more.

Our client is a partner to some of the most famous Sports brands in the world!

➥ You are fluent in French and speak English on working level?
➥ You are eagerness to learn?
➥ You are a positive and energetic person?

How your workday would look like:

On a daily basis, you will communicate with clients via phone in French language. Also, you will provide information related to sizes of the sports clothing and products, additional details such as time for delivery, type of material, etc. And if they have some problems on the platform, you will be the person who can resolve the issue.

What you will get in return:

Competitive salary, bonuses, and great social package…
And of course, the chance to become a part of a young, fun and professional team.

Sounds great?!
…Send us your recent CV in English and we will contact you to tell you more!

Licensed by MLSP, license N 2564, valid from 03.07.2018

*Nova Logic Company OOD hereby informs you that the data voluntarily provided by you in response to the present e-mail message are personal data and are subject to a special protection regime within the meaning of Regulation 2016/679, Personal Data Protection Act. The personal data provided by you are processed for achieving of purposes permitted by the law and for realization of lawful interests of the personal data administrator.Hereby you grant your explicit consent that Nova Logic Company OOD may process, keep and use the personal data voluntarily provided by you for a period of 3 years, when there is no other statutory term that guarantees their security and protection. Hereby we inform you and you grant your consent that Nova Logic Company OOD may provide your personal data to state bodies and authorities and third parties, when it is obliged to do so by virtue of a special legal provision or when this is necessary for realization of your rights and lawful interests as a participant in a recruitment process or another permitted form of survey in view of potential future employment. In conformity to the internal regulations of Nova Logic Company OOD you have the right to access and the right to correct your personal data, the right to ask for deletion of your personal data and the right to object against the processing, provisioning and disclosing of your personal data for purposes other than the described above.
Required skills
Customer Relationship Management
Customer requirements understanding